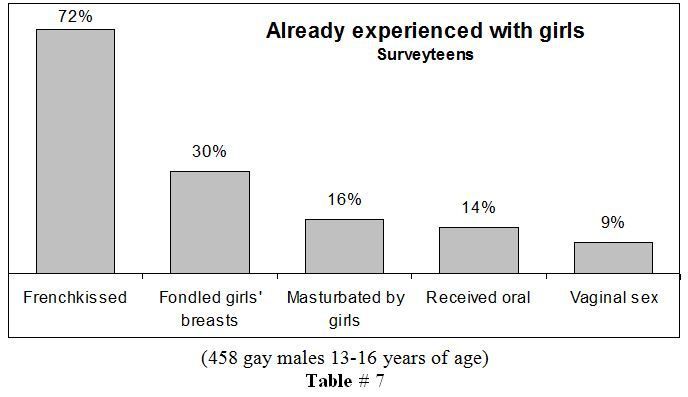 Just as more and more boys take liberties with their declared heterosexual orientation, a parallel situation obtains among the young homosexuals who, for very different reasons, adopt an attitude ("straight acting") which confuses matters even more. The April 1st 2007 issue of the New York Times relates the story of Zach, a 15yo gay teenager:
One month before Zach O'Connor, a seventh grader at Brown Middle School here, came out about being gay, he was in such turmoil that he stood up in homeroom and, in a voice everyone could hear, asked a girl out on a date. It was Valentine's Day 2003, and Zach was 13. "I was doing this to survive," he says. "This is what other guys were doing, getting girlfriends. I should get one, too." He feared his parents knew the truth about him.
Just like Zach, numerous gay boys acknowledge having performed sexual acts with female partners, as shown by the answers provided by gay adolescents to the Surveyteens questions on this subject (questions 52 to 59). The above table (#7) was drawn up on the basis of these answers.
Thus, almost three out of four homosexual boys between the ages of 13 and 16 (72%) indicate they have already kissed one or more girls on the mouth, while 30% assert they have caressed their breasts (under their clothes), 16% let themselves be masturbated to ejaculation, 14% accepted fellation, and 9% had intercourse. These ratios, little different from the ones we observe among heterosexual adolescents, are not surprising; Just like the heteros, the gays often express curiosity and desire in their own fashion to experiment. Finally, we cannot exclude the possibility that many of these encounters took place as the result of a seduction by the girl, quite possibly at a time when their orientation had not yet fully congealed. Rigidity in amorous and sexual behavior need not be any more absolute among gays then among heterosexuals. In their blogs, avatars and personal statistics, many gays post photos showing them in the company of girls, often in sensual poses. Some among them confirm past or present dissimulation, an attitude with which they are more or less comfortable:
• Umm well as far as I am concerned I think I have always known, but I never wanted to acknowledge it flat out. I even went out with girls to be like everybody else. But now fine, it's guys! (SE, 16 yo, France, Courbevoie)
• I am not afraid of my sexuality or ashamed of it, however I do not think telling the world is the correct thing to do… especially in high school. I might as well wait until I graduate and make NEW friends who will not care as much, and know what I am from the start. The only downside is that I will most likely not engage in any form of sexual contact until then! So for now I "pretend" to be straight and, though I am not attracted to women sexually (however I do identify more with them), I see no downside in giving oral sex or kissing, etc. (however I do not get excited over women!). (16yo, France, Paris)
• In fact I have always been gay, always been drawn to male sensuality. But I went out with chicks to be like the others... (SE, 16 yo, France, Montpellier)
• Me, I have not told anyone yet. I can't bring myself to do it. Worse, last year I went out with a girl. (SE, 15 yo, France, Lille)
• I hate the life I lead. I pretend to be someone who is not me. (GT, 15 yo, USA)
Outside the Internet, it is very difficult for a gay adolescent to meet other boys of the same orientation, especially in rural areas, which gives a false impression to the general population of their number, their personality, their behavior, and the difficulties they encounter.